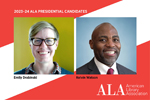 Emily Drabinski (left), interim chief librarian at the Graduate Center, City University of New York, and Kelvin Watson (right), executive director of Las Vegas–Clark County (Nev.) Library District, are the candidates for the 2023–2024 presidency of the American Library Association (ALA). Peter Hepburn, head librarian at College of the Canyons in Santa Clarita, California, and Oscar Lanza-Galindo, associate dean of the library and learning commons at Bunker Hill Community College in Boston, are candidates for ALA treasurer for 2022–2025. All four candidates will engage in a virtual candidates' forum at 1 p.m. Central on February 16, 2022. The ALA Nominating Committee also announced candidates for 34 open councilor-at-large seats October 5. Ballot mailing for the ALA election will begin March 14, 2022, and will run through April 6. Individuals must be members in good standing to vote in the 2022 ALA elections. Renew your membership online or by calling 1-800-545-2433, option 1. For more information, please visit the ALA Election page....
AL: The Scoop, Oct. 5


Lara Ewen writes: "Hurricane Ida made landfall in Louisiana on August 29—the 16th anniversary of Hurricane Katrina—and then wound its way northeast, flooding parts of New Jersey, New York, and Pennsylvania. A month later, many librarians in the path of the storm are still picking up the pieces."...
AL: The Scoop, Oct. 5
Nellie Barrett writes: "This summer, teens across the country were exposed to new ways of thinking—both about themselves and the world—by working at their local libraries. The program was part of the Public Library Association's fourth annual Inclusive Internship Initiative (III). III offers paid, mentored internships to high school–aged students from diverse backgrounds, allowing them to experience the work of librarianship firsthand and explore how to use their talents and perspectives to impact their communities."...
AL: The Scoop, Oct. 6





Kimberly Johnson and Jennifer Greb write: "As the 100th anniversary of the devastating 1921 Tulsa race massacre approached and Tulsa City–County Library looked for ways to educate the community about a significant piece of our city's past, we had a disturbing realization: Many of our patrons, even those native to Tulsa, knew little to nothing about it. Decades of whitewashed reports and unacknowledged losses added up to a serious gap in how we understand our local and national history."...
American Libraries Trend, Sept./Oct.


Lynn Silipigni Connaway and Joyce Valenza write: "Instructors across disciplines have long warned students not to put too much stock in Wikipedia, framing the platform as a flawed free-for-all rather than a dynamic, collaborative reference tool with expansive scope. As Wikipedia reaches maturity, turning 21 in January 2022, it has achieved new relevance as a hub for emerging research on COVID-19 and boosted its authority with live links to source texts that users can check out via Controlled Digital Lending. It's time to reconsider our estimation of this resource as a student research tool."...
American Libraries column, Sept./Oct.; MIT Press Direct, Dec. 1, 2020; Internet Archive, Oct. 29, 2019


Alyssa Shotwell writes: "While the American Library Association hosts discussions and programming around banned books in public institutions and libraries, the topic of prison book access is lacking. They do have resources and guides to donating books (including to prisons), but the advocacy side for those incarcerated is mostly left up to organizations that do this year-round. This is probably because, as a nation, people aren't ready to confront their own bias against those incarcerated (even for nonviolent offenses), and advocates get labeled 'radicals' or 'hippies.'"...
The Mary Sue, Sept. 29





A University of Toronto study that surveyed 527 librarians in four large Ontario cities from January 2020 to April 2021 found almost all respondents, who are predominately female, have witnessed or experienced violence, intimidation, and harassment while working in libraries. Just over two-thirds stated they feel unsafe at work a minimum of a few times per month. Librarians interviewed October 2 by CBC News say the harassment, assaults, and threats they face every day in Ontario libraries have become more prevalent over the course of the pandemic as other public spaces closed....
CBC News, Oct. 2


On October 5, Brooklyn Public Library, New York Public Library, and Queens Public Library announced the elimination of all late fines on books and other circulating materials. Existing fines and fees in patron accounts have also been cleared. "For far too long, late fines have generated fear and anxiety among those who can least afford to pay, preventing them from opening library accounts, checking out books, or even coming through our doors," said QPL President and CEO Dennis M. Walcott....
New York Public Library, Oct. 5


Books about sex, LGBTQ issues, and reproduction have Campbell County (Wyo.) Public Library employees facing possible prosecution after angry local residents filed a complaint with the sheriff's office that the material is obscene and doesn't belong in sections for children and teenagers. The books are This Book is Gay by Juno Dawson, How Do You Make a Baby? by Anna Fiske, Doing It by Hannah Witton, Sex is a Funny Word by Corey Silverberg, and Dating and Sex: A Guide for the 21st Century Teen Boy by Andrew P. Smiler....
ABC News, Oct. 1





Chamidae Ford writes: "The BLOOM Giving Garden at Wa Na Wari is beginning to wrap up the season. The BIPOC-youth-run garden began as a response to COVID-19 and has continued to grow and expand in its second summer. The garden is a collaboration between Wa Na Wari, Seattle Public Library, YES Farm, The Black Farmers Collective, and EarthCorps. The project aims to educate and uplift BIPOC youth by fostering food sovereignty and honoring sacred land and Indigenous practices while building community."...
South Seattle Emerald, Sept. 28
On September 29, National Public Radio launched a new daily podcast, NPR's Book of the Day. Episodes run 10 to 15 minutes long and feature author interviews that illuminate the ideas and issues of our time, and literary conversations curated from NPR's archive. The podcast will offer a mix of genre fiction, literary fiction, and nonfiction, as well as showcase interviews with authors of color and female writers....
NPR, Sept. 27


Fire Lyte writes: "Witches have always been a bit of figment and fact, appearing in some way in every culture and throughout history. They've been said to have supernatural healing abilities, calling back loved ones, precious livestock, and near-barren lands from the brink of demise. In recent years they are the subject of comic book movies and television shows where their powers are only limited by the budget of the special effects department. I've gathered nine stories of witches, a coven of stories if you will, that encompass the history of the witch through time and how these stories are thriving in the modern era."...
Lit Hub, Oct. 1

American Libraries Direct is a free electronic newsletter emailed every Wednesday to personal members of the American Library Association.
Editor, AL Direct: Amy Carlton
Direct ad inquiries to: Michael Stack
Send news and feedback: AL Direct
All links outside the ALA website are provided for informational purposes only. Questions about the content of any external site should be addressed to the administrator of that site. AL Direct FAQ.
American Libraries will not sell your email to outside parties, but your email may be shared with advertisers in this newsletter should you express interest in their products by clicking on their ads or content. If advertisers choose to communicate with you by email, they are obligated to provide you with an opportunity to opt-out from future emails in compliance with the CAN-SPAM act of 2003 and the European Union's General Data Protection Regulation of 2018. Read the ALA privacy policy.
To manage your American Libraries email preferences, please click here.
To unsubscribe from all American Library Association communications, click here.
American Library Association, 225 N. Michigan Avenue, Suite 1300, Chicago, IL 60601