Athlete and activist Colin Kaepernick closed the American Library Association's inaugural LibLearnX conference January 24. "I want you to know the value of your work cannot be understated," he told library workers. "In fact, our lives and liberation depend on it." During LibLearnX (January 21–24), big-name speakers inspired attendees with their stories: author Angeline Boulley talked about her four-decade journey to publishing her award-winning debut YA novel; US Sen. Mazie Hirono (D-Hawaii) discussed her love of reading; actor and comedian Molly Shannon opened up about her tumultuous childhood; Mariko Tamaki talked about the queer teen experience; and author Jacqueline Woodson reflected on our collective grief.
AL: The Scoop, Jan. 22–25


On January 24, ALA announced the top books, digital media, video, and audiobooks for children and young adults—including the Caldecott, Coretta Scott King, Newbery, and Printz awards—at the virtual Youth Media Awards, held at LibLearnX. The Last Cuentista, written by Donna Barba Higuera, is the 2022 Newbery Medal winner. Watercress, illustrated by Jason Chin, is the 2022 Caldecott Medal winner. Click here for a complete list of winners.
AL: The Scoop, Jan. 24


ALA has selected The Thousand Crimes of Ming Tsu by Tom Lin as the winner of the 2022 Andrew Carnegie Medal for Excellence in Fiction and A Little Devil in America: Notes in Praise of Black Performance by Hanif Abdurraqib as the winner of the 2022 Andrew Carnegie Medal for Excellence in Nonfiction. The selections were announced during the LibLearnX conference January 23 at the Reference and User Services Association's Book and Media Awards virtual event. "Congratulations to both medalists for gifting readers with essential antidotes to the polarizing challenges we continue to face," said Terry Hong, chair of the selection committee.
AL: The Scoop, Jan. 23
Did you miss key actions taken by ALA Council before and after LibLearnX? American Libraries has recaps from the Council I, Council II, and Council III meetings that took place last week and this week.
AL: The Scoop, Jan. 20–21, Jan. 25
On January 20, ALA announced that actor, comedian, and former Saturday Night Live cast member Molly Shannon will be honorary chair of this year's National Library Week (April 3–9). "My mom was a librarian. She encouraged kids to read. The work of librarians and libraries has such a special place in my heart," Shannon said in a statement. Shannon appeared at LibLearnX on January 23 and will release her memoir Hello, Molly! in April.
AL: The Scoop, Jan. 20, 23


San Francisco Mayor London N. Breed announced on January 13 that a $2 million grant from the Andrew W. Mellon Foundation will be used to fund a collaboration between San Francisco Public Library (SFPL) and ALA that aims to improve and expand library services for incarcerated individuals locally and nationally. The initiative, Expanding Information Access for Incarcerated People, will undertake a survey of existing models for library services to people in jails and prisons and a revision of outdated standards in collaboration with formerly incarcerated people and librarians. The project will also include the development of an interactive map for locating library services for incarcerated individuals, virtual trainings led by SFPL staffers and field experts, and digital literacy trainings to support people in the process of reentry.
ALA Communications and Marketing Office, Jan. 13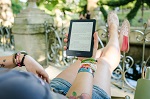 Samantha Handler writes: "States that want to give libraries a better deal on ebooks are watching a publishers' suit against Maryland, the first state to set terms for how digital books are distributed for public borrowing. Library associations, including the American Library Association and several state groups, have been pushing for laws to require publishers to distribute digital works to libraries on 'reasonable' terms. The groups say libraries pay too much for ebooks and should be able to get them at lower prices. The bills and the law enacted in Maryland have set off alarm bells for authors and publishers who fear the legislation encroaches on copyrights. A hearing on the law's implementation will be held in early February. Library associations are watching what happens in Maryland to decide how to proceed in other states. Bills are pending in Massachusetts and Rhode Island, and legislation is likely to be reintroduced with some changes in New York."
Bloomberg Law, Dec. 9, Jan. 18





Darrell Ehrlick writes: "The Billings Public School Board, the largest in the state of Montana, decided unanimously on January 24 to keep two controversial titles found in high school libraries: Gender Queer by Maia Kobabe and Lawn Boy by Jonathan Evison. The move came as somewhat of a surprise, as a subcommittee of the board had recommended keeping Evison's book but removing Gender Queer. However, after nearly two hours of discussion, public comment, and a review of the books, a trustee changed her recommendation, setting off a series of votes that would ultimately lead to keeping both titles. 'The greater harm would have been in banning books,' said Board Member Mike Leo. During the meeting, more than 40 people submitted comments or spoke in person. A tally of speakers showed that those who supported keeping both books outnumbered those who voiced objections by a roughly 2-to-1 ratio."
Daily Montanan, Jan. 24


World-renowned chef Martin Yan, of the pioneering TV show Yan Can Cook, and his wife, Susan, have donated a collection that includes nearly 3,000 cookbooks to UC Davis Archives and Special Collections. The Yans have also gifted photographs, videos, slides, awards, and Martin's first wok to the library. The couple, both UC Davis graduates, chose the institution for its reputation in the food sciences and possession of what many scholars consider the world's preeminent wine library. MacKenzie Smith, university librarian and vice provost of digital scholarship, noted that Yan's donation "provides valuable insight into an important era of Asian cultural and culinary history" and his story is an important part of the history of the Northern California food movement and cultural diversity in America.
UC Davis, Jan. 24; American Libraries feature, Mar./Apr. 2017


After he finished writing and illustrating his first book, The Adventures of Dillon Helbig's Crismis—which features an exploding tree, a time portal, Santa, and a giant turkey—8-year-old Dillon Helbig put homemade stickers on the spine and added it to the shelves of Ada (Idaho) Community Library's Lake Hazel branch. 'I've been wanting to put a book in the library since I was 5,' he told local station KTVB-TV. His mom didn't know about Dillon's plan and called the library. "His parents were worried we would find his book and we would get rid of it," said Alex Hartman, Lake Hazel branch manager. "Dillon's book definitely fit all the criteria that we would look for to include a book in our collection." The book has been added to the library's holdings and now has a wait list.
KTVB-TV (Boise, Idaho), Jan. 19

American Libraries Direct is a free electronic newsletter emailed every Wednesday to personal members of the American Library Association.
Editor, AL Direct: Amy Carlton
Direct ad inquiries to: Michael Stack
Send news and feedback: AL Direct
All links outside the ALA website are provided for informational purposes only. Questions about the content of any external site should be addressed to the administrator of that site. AL Direct FAQ.
American Libraries will not sell your email to outside parties, but your email may be shared with advertisers in this newsletter should you express interest in their products by clicking on their ads or content. If advertisers choose to communicate with you by email, they are obligated to provide you with an opportunity to opt-out from future emails in compliance with the CAN-SPAM act of 2003 and the European Union's General Data Protection Regulation of 2018. Read the ALA privacy policy.
To manage your American Libraries email preferences, please click here.
To unsubscribe from all American Library Association communications, click here.
American Library Association, 225 N. Michigan Avenue, Suite 1300, Chicago, IL 60601